Distinctive Systems wins Trailways Support Award
4/17/2019

Distinctive Systems is excited to have won the Outstanding Affiliate Support Award at the 2019 Trailways Annual Meeting. This award was presented to Distinctive Systems for the partnership they have provided to Trailways and Trailways member companies this past year, which included presenting at the Trailways Sales Retreat, along with the 2018 and 2019 Annual Meeting. Additionally, Distinctive Systems has provided an integration with the Trailways website, allowing leads from the website to flow directly into the Coach Manager software. 
The award was presented to Eric Elliott of Distinctive Systems by the Trailways Board of Directors.
About Distinctive Systems: Distinctive Systems is the leading supplier of software for coach, bus and tour companies. Established for over 35 years, they have supplied systems to operators throughout North America, the United Kingdom, Ireland, Australia, New Zealand, South Africa and beyond. More than 1,500 operators rely on one or more of their latest Microsoft SQL Server-based systems for the efficient management of their companies. For more information regarding distinctivesystems.com, please feel free to email eric.elliott@distinctivesystems.comor call 646.448.9981.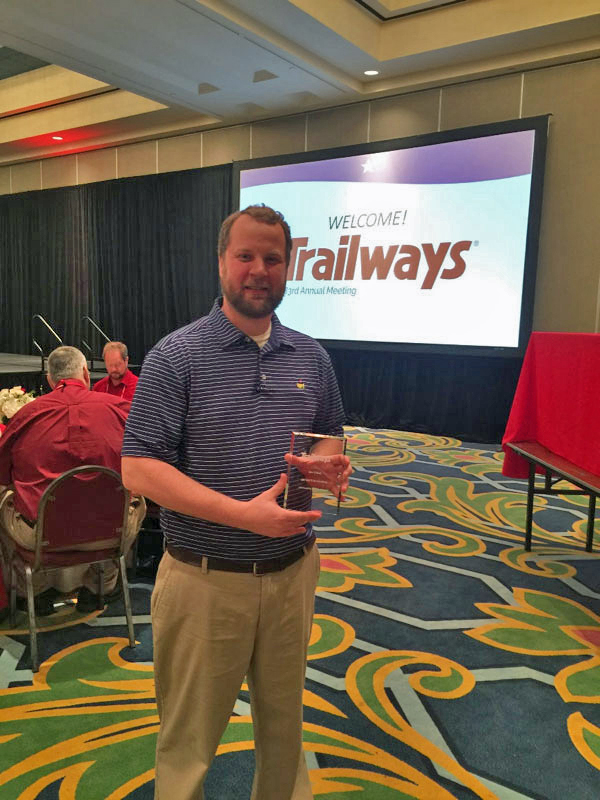 Eric Elliott, VP of Sales and Marketing with the award.